Business value
The email inbox often serves as a source of incoming files that initiate or unblock workflows, such as PDF invoices for payment, photos of damaged goods, customer requirements in Word documents, or part specifications listed in Excel. With the Business Central add-in for Outlook, you can remain in your flow of work and efficiently connect incoming files to business processes without leaving Outlook.
Business Central saves time and reduces context switching by helping you quickly connect email attachments to the business record they relate to, without leaving Outlook.
Feature details
The Outlook add-in now offers the option to copy email attachments to the record displayed in the add-in. For example, the add-in will automatically display the contact record that matches the current email sender, from which you can navigate to that customer's latest sales order. Once you have identified the order that the email relates to, the attachments feature can be used to copy files from the current email to that order.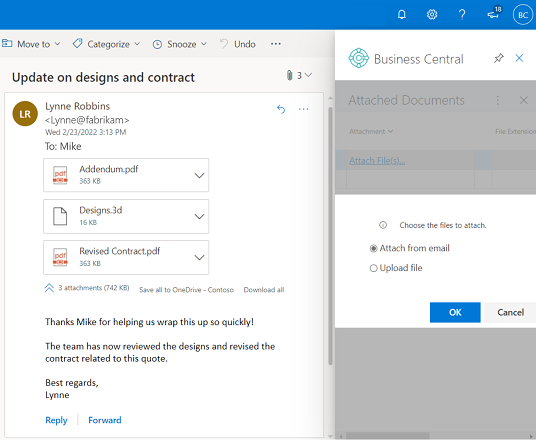 Review and choose some or all of the email attachments to add to the record.
After attaching a file, coworkers can instantly download and view the file from the Attachments FactBox in any of their Business Central clients. Or, they can open the file in OneDrive to share and collaborate with their department.
The feature is available for any records that use the Attachments FactBox, such as a vendor, customer, purchase invoice, or sales order.
Alternatively, purchase invoices can be sent to the incoming documents feature for processing.
Read the complete Business Central updates.