Business value
Teams perform better when they have access to insights and actions within their flow of work. The Business Central app for Teams allows users to access business data and act on it directly from Microsoft Teams.
Customers benefit from reduced context-switching and collaboration efficacy when they can do more inside Microsoft Teams.
Feature details
Easier app acquisition
When pasting a link to Business Central in the message compose area in Teams, a banner is now automatically displayed that suggests installing the Business Central app, so that a preview of the link can be shared as a compact and elegant card. This makes it easy for users to get the app with fewer steps.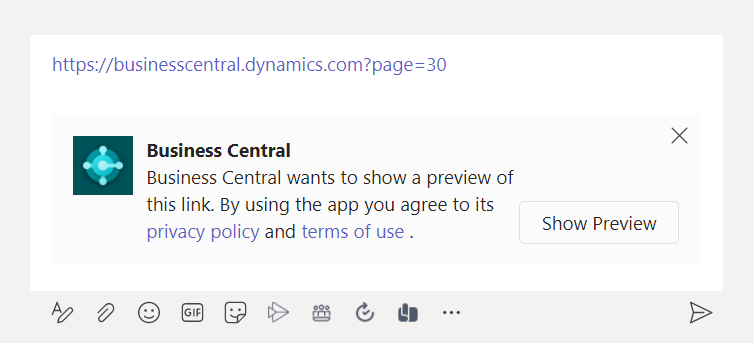 More workspace
When a card is shared to a Teams channel, meeting, or group chat, the card includes a Details button that displays the details window inside Teams.
This window now occupies more space on the screen, showing more fields and actions at once for greater efficiency.
From the Details window, you can now open the full Business Central experience in the browser.
To simplify the experience and allow a clear progression from card to details to separate window, the Popout button on cards has now been removed.
These enhancements are only available to Business Central online.